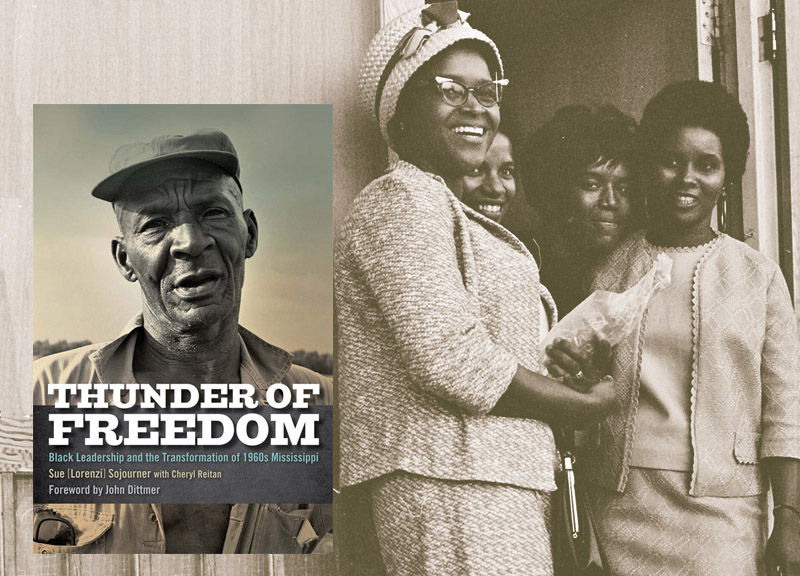 Thunder of Freedom: Black Leadership and the Transformation of 1960s Mississippi
by Sue [Lorenzi] Sojourner with Cheryl Reitan, Foreword by John Dittmer
University Press of Kentucky, January 2013.
BREAKING NEWS!
THUNDER OF FREEDOM IS A MINNESOTA BOOK AWARD FINALIST
Thunder of Freedom placed in the top four books in the Memoir and Creative Non-fiction category! 4 out of 32 entries!
https://www.thefriends.org/events/mnba/winners-and-finalists/current-winners-finalists/ 
MORE EVENTS
Clayton Jackson McGhie Memorial Dinner
Sue is honored by the Clayton Jackson McGhie Memorial group <
Sue [Lorenzi] Sojourner, 2014 Honoree
Saturday, March 29 at 6:00pm
Greysolon Ballroom, Duluth, Minnesota
Tickets: http://eventful.com/duluth/events
Meet the Finalists, MN Book Award
Friday, March 14 at 6:00pm
Open Book in Minneapolis, Minnesota
Meet Sue Sojourner, Cheryl Reitan (Thunder of Freedom) and many of the finalists for the 26th Annual Minnesota Book Awards as they give short presentations about their books. After the program, chat with the authors and enjoy complimentary wine and refreshments. Finalist books will be available for purchase and autographing. Free admission. Location: Open Book, Target Performance Hall
Minnesota Book Award Event
Join us at the event
Minnesota Book Awards
Saturday, April 5 at 7:00pm
St. Paul Union Depot, Saint Paul, Minnesota
https://www.thefriends.org/events/mnba/winners-and-finalists/current-winners-finalists/
 ABOUT THE BOOK
The world's eyes were on Mississippi during the summer of 1964, when civil rights activists launched an ambitious African American voter registration project and were met with violent resistance from white supremacists. Sue Sojourner and her husband arrived in Holmes County, Mississippi, in the wake of this historic time, known as "Freedom Summer."

From September 1964 until her departure from the state in 1969, Sojourner collected an incredible number of documents, oral histories, and photographs chronicling the dramatic events that she witnessed. In this remarkable book, written in collaboration with Cheryl Reitan, Sojourner presents a fascinating account of one of the civil rights movement's most active and broad-based community organizing operations in the South.

Thunder of Freedom unites Sojourner's personal experiences with her insights regarding the dynamics of race relations in the 1960s South, providing readers with a unique look at the struggle for rights and equality in Mississippi. Illustrated with selections from Sojourner's acclaimed catalog of photographs, this profound book tells the powerful, often intimate stories of ordinary people who accomplished extraordinary things.
Sue Lorenzi Sojourner is a veteran of the civil rights movement who worked with the citizens of Holmes County, Mississippi from fall 1964 through summer 1969 to achieve racial equality. She has produced two photography exhibitions using reproductions of her original 1960s photographs.

Cheryl Reitan is a university administrator and the editor of the alumni magazine for the University of Minnesota Duluth. She has published short stories and articles in numerous literary and professional journals.
---
"Sue Sojourner's account of her mid-1960s work in Holmes County, Mississippi, is an important, engaging manuscript and one that speaks to a number of significant themes and topics in the scholarship of the civil rights movement." --- Emilye Crosby, Civil Rights History from the Ground Up: Local Struggles, a National Movement
---
"Thunder of Freedom captures the struggles, the stories, and the spirit of the movement and the community organizing that brought about great change in that time and place. Now is the time to continue the march toward freedom until there is a level playing field for every child in Mississippi and in America."-- Marian Wright Edelman, Children's Defense Fund
Photos by Sue [Lorenzi] Sojourner
Sue Sojourner | suesojourner.com | 218-269-7588 | susojo@yahoo.com
Cheryl Reitan | cheryl@cherylreitan.com | www.cherylreitan.com